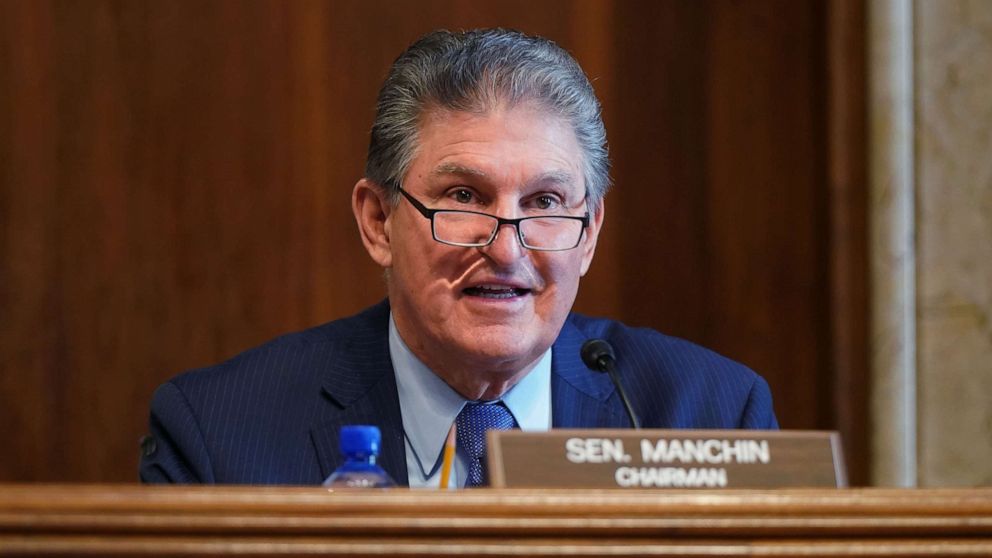 Sen. Joe Manchin, I read your Op-Ed in the Charleston Gazette-Mail, and I have a few questions for you. You are well within your rights and responsibilities as a member of the Senate representing West Virginia with your concerns over the filibuster. In a perfect world, I think your arguments would have merit. In case you haven't been paying attention for the past decade or so, we don't live in a perfect world. In fact, Black Americans have never been within an Apollo rocket shot reach of a perfect world in America.
You may or may not be aware of the particular struggles of Black Americans, but I can assure you life here for us is no Saturday morning picnic. Our right to vote in America was enshrined into the Constitution in 1870 by the Fifteenth Amendment. It wasn't until the passage of the Civil Rights Act of 1965 that LEGAL barriers enacted by state and local governments to deny our right to vote were made illegal.
Imagine that. Our right to vote was enshrined into the Constitution, and it still took almost 100 years for America to make our God-given right to vote legal. Imagine the furor you'd have if you lived your entire life under a Constitution that says you can vote, yet your government makes it illegal for you to exercise that right. A Black American born in 1871 was a US citizen with the right to vote at birth. If that person lived to be 90 years old, he/she would have lived their entire life with their right to vote being illegal depending on where they lived.
Unfortunately, we now are witnessing that the fundamental right to vote has itself become overtly politicized. Today's debate about how to best protect our right to vote and to hold elections, however, is not about finding common ground, but seeking partisan advantage. Whether it is state laws that seek to needlessly restrict voting or politicians who ignore the need to secure our elections, partisan policymaking won't instill confidence in our democracy — it will destroy it.

As such, congressional action on federal voting rights legislation must be the result of both Democrats and Republicans coming together to find a pathway forward or we risk further dividing and destroying the republic we swore to protect and defend as elected officials.

Sen. Joe Manchin
Here's where I have a problem with your OpEd. You admit partisan policymaking will destroy our democracy. So, what are you doing to combat and stop the GOP attack on the voting rights of minorities? You keep claiming that we need bipartisan effort to move forward. How exactly are you going to get authoritarian acting Republicans to quit pissing on the Constitution? It's not like this is a new or recent issue for Black Americans.
That was back in 1980. Even more recent, there's this admission from the right.
Now I understand that you may not have a full grasp of the issues that Black Americans face on a day-to-day basis. It's not like you actually represent a sizable segment of our community. West Virginia has approximately 72.000 Black residents as of 2018 estimates. If you use the rounded estimate of 330,000,000 people living in the US, 13% of that total comes out to 42,900,000. That puts the percentage of Black America represented by you at 0.17% rounded off. That's not even one quarter of one percent. There are actually more Black people living in my county, Henry County, than there are in all of West Virginia.
I honestly don't expect you to lift a finger towards the issues faced by Black Americans. It has not always been a position taken up by moderate liberals in America. Look back at the observations made by Dr. Martin L. King Jr if you doubt me. If moderate liberals gave a damn about issues that we face, it wouldn't have taken us almost 100 years to be able to legally cast a vote in all 50 states. If moderate liberals gave a damn about issues we face, you wouldn't have needed to write your OpEd because moderates would have been able to forge these pathways long ago ending the fight.
The idea that you're going to forge some bipartisan agreement with the current GOP that will help minorities is laughable at best. In all honesty, I think it makes you look like a fool looking through rose colored glasses. That's just my opinion though.
When 2022 rolls around, we will see the results of your insistence on "procedure". If nothing else, America has seen Republicans abandon procedure and norms in an outright move to consolidate their power and control over America. There's nothing stopping them from abandoning their goals now, so we will see what happens if/when you fail miserably leaving our rights hanging out to dry. WV won't have a problem as 9 in 10 residents are White, so Black people losing rights won't have an effect on your voter base.
I've said that America is sliding towards becoming an apartheid state for almost a decade now. The next few years will show whether I'm right or wrong. If nobody fights and we see more minority rights trampled, who will be there to support Democrats when we can't vote? If Democrats lose control over more elected offices, who will be there to slow the GOP from turning America into their personal right-wing utopia? I hope I'm wrong and seeing things that are not there. Looking at how easily some people here fall for conspiracy theories and outright lies, I don't see where my worst fears are not entirely within the realm of possibility.
So, are you going to deal with reality Joe, or continue to live in your Walter Mitty world? You're playing with the rights of my people now, and I don't find it amusing at all.