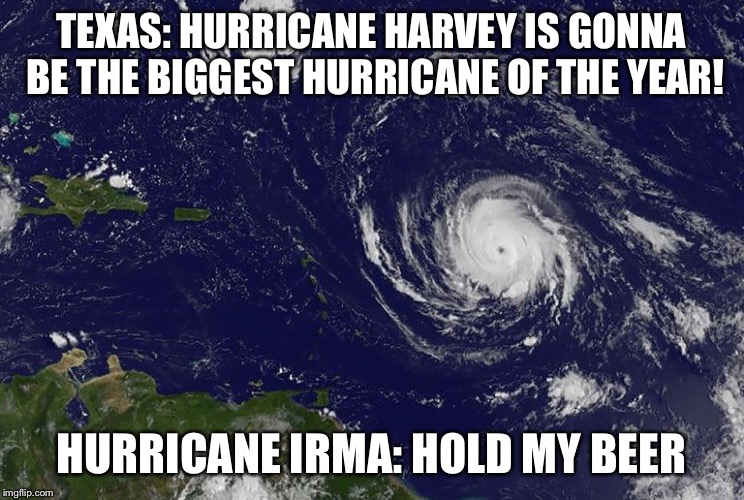 Not too far in the distant past, we had Hurricane Harvey to deal with in the US.  At the same time, There was much worse flooding going on in Asia.  Just when you thought it was safe to go on a Caribbean vacation, Irma decided that the Caribbean needed to be redecorated.
I'm not one to delve much into climate change as I think it's far too vast of a topic for the unknowable to discuss as though they know all the answers.  I don't know the science, and I don't know which "side" is right.  I recall multiple scientists coming out with the same conclusion that the changing climate wouldn't equate to more storms and bad weather.  We would, however, see more intense and severe storms as a result of changing temperatures.  Seems logical when you consider that heat is what fuels most severe weather events.
I do have the power of observation though, and right now, I'd say that Mother Nature is a bit perturbed right now.  Just maybe we should take a second or two and consider the long-term repercussions of what some people see as the climate shifting before our very eyes.
I've heard the debate on the cyclic nature of how the climate changes over time, and that the temperatures rises and falls over long periods.  I know that history sometimes has a way of repeating itself too.
We're in the middle of one of those repeats now.  The difference is that, in 2010, the US was spared as both Igor and Julia stayed out in the Atlantic and went fishing instead of wrecking coastline.  In 2017, we're not going to be that lucky.  Irma is on her way to skull drag Florida, and we've already seen what she's capable of doing.  Not only that, Jose has been working out and is now a Cat 3 following his big sister's path.
Years ago, I recall reading something to the effect that secondary hurricanes typically didn't develop as much because the initial hurricane would absorb all the heat from the atmosphere and water.  Heat is one of the primary fuels to strengthen a hurricane.  If Jose is a 3 now, that says the water and air is still quite warm after a Cat 5 has burned through the area.
The island of Barbuda was completely wrecked by Irma, and many other Caribbean nations sustained massive amounts of damage.  Before they really have a chance to assess their damages, they're staring down another potential monster storm.
One possibly good thing is that Jose is expected to make a turn to the north.  At what point, however is still unknown.  My prayers go out to everyone around the world that have to live through such horrendous weather related events at this point.  People are going to need lots of assistance to recover, so I hope those who are not affected do not simply turn the television to a different channel and forget about those who need help the most.  We're going to have to come to grips with what science is telling us so that we can adjust our ways to avoid even worse storms in the future.  If we don't adjust now, we all may not be able to weather the weather down the road.